Down Valley
---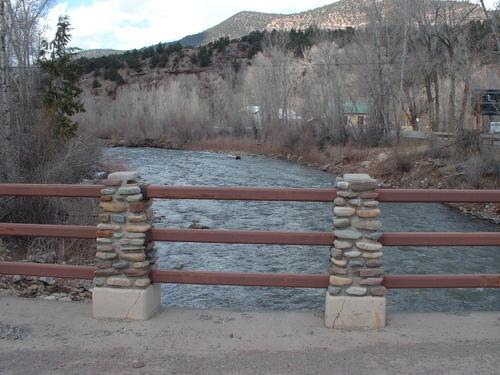 Placerville, CO
Elevation 7,321 feet.
RGS Mile Post 26.6
You can find Placerville tucked into the east side of the San Miguel River valley at the confluence with Leopard Creek.
Rich gold-bearing sands were discovered in the area in 1876. The following year the town was platted, and several cabins built. Then a young, adverse, lad decided he liked a spot on higher ground about a mile and a half up the river a little better. He proceeded to build a general store, and the only saloon in the area there. In the mid 1890's some others from at the old site up and moved to the new site. The name of Placerville moved with them and now we have an Old, and New Placerville.
http://en.wikipedia.org/wiki/Placerville,_Colorado
Sawpit
Sawpit is a town in San Miguel County.
The community was named for local timber operations

The latitude of Sawpit is 37.995N. The longitude is -108.001W.
Elevation is 7,592 feet.
The estimated population, in 2003, was 26.